Pull apart cupcake cakes are ideal to serve at parties as they are so easy to break apart and have an individual portion instantly for guests. You won't need specialized equipment, as the cake is formed with cupcakes which are arranged in specific shape to suit your theme and then iced over. They give the same effect as full sized cakes while being much more practical. You can get creative and make any shape you like for example a mermaid for an under the sea theme shower. They don't have to be restricted to baby showers as many people choose this idea for bridal showers and even weddings. You can customize them for either a boy or a girl by using pink or blue icing and keep it gender neutral by using yellow. It's a great idea for a gender reveal.

After this creative baker saw this idea on Pinterest – they decided to make a Baby Buggy Cupcake Cake. I think it turned out really nice! The cute fondant bear is a really nice touch.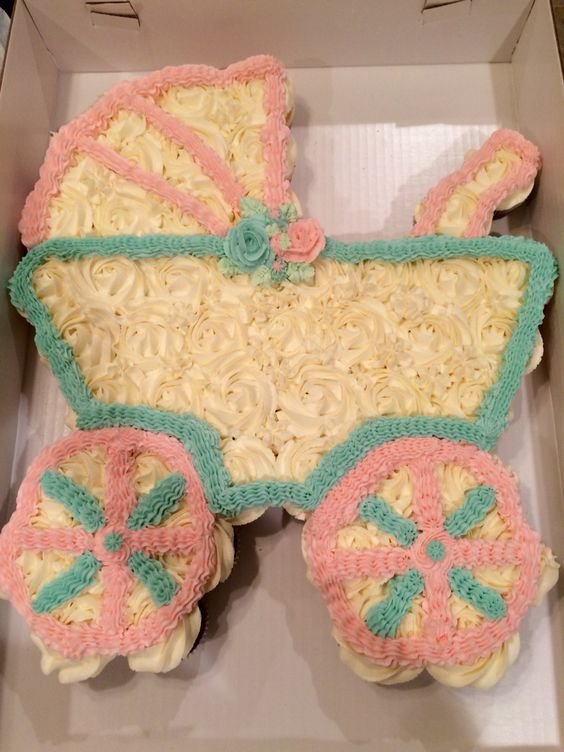 Whip up this adorable tear apart cake for your next party. You'll need to outline a stroller shape on a Cake Board to make this cute dessert. Pink and blue icing has been used so as not to reveal the gender.

Draw your carriage shape onto tracing paper, fill in with cupcakes and then stick with fondant. Now you can add the icing colors you choose and adorn with other edible features.

This clearly shows the layout used to form the stroller with cupcakes.

A personalized message has been written beside the cake – great for a photo for the memory book.