With winter fast approaching it's time to get your head thinking about all that sparkles for the glitteriest season of all. You don't have to spend a fortune to make your house look festive. These Dollar Store Christmas Decorations can be made at a fraction of the cost you would purchase them in designer stores.
1. Plastic Fork Tree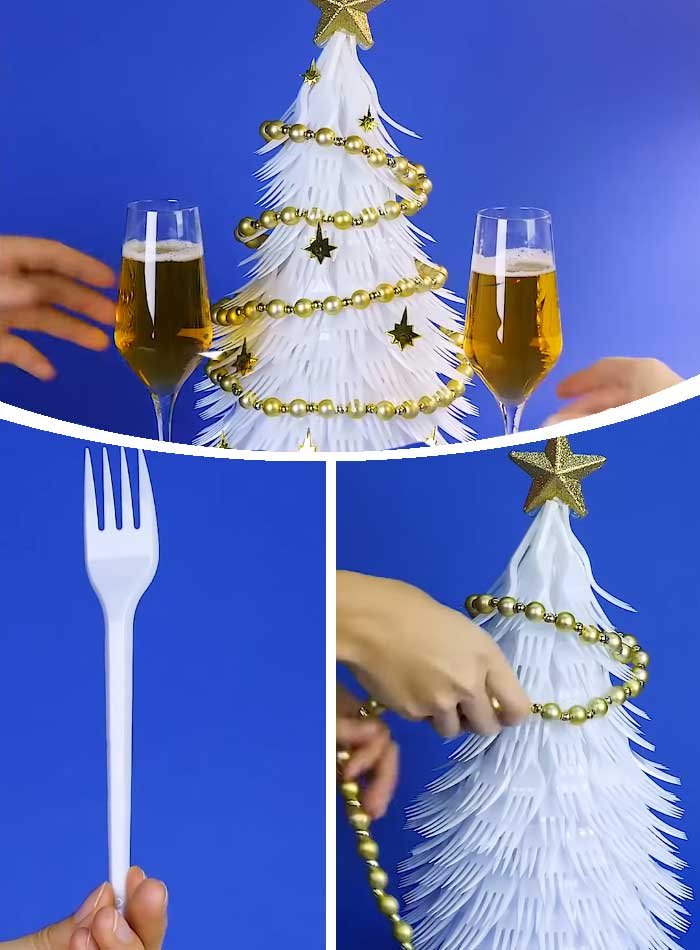 All you need to make this is some plastic forks , card stock and glue. Make the card into a cone and cut some length off the forks. Begin to glue around the cone, and then decorate woth pearl string and stars. It also makes a great litle centerpiece for winter weddings.
source youtube
2. Water Marble Bauble

This simple technique to water marble your ornament involves using a dish of water and adding several drops of different colored nail polishes. Swirl it around and dip your clear bauble in for a really neat effect.
source youtube
3. Snow Globe Candle Holders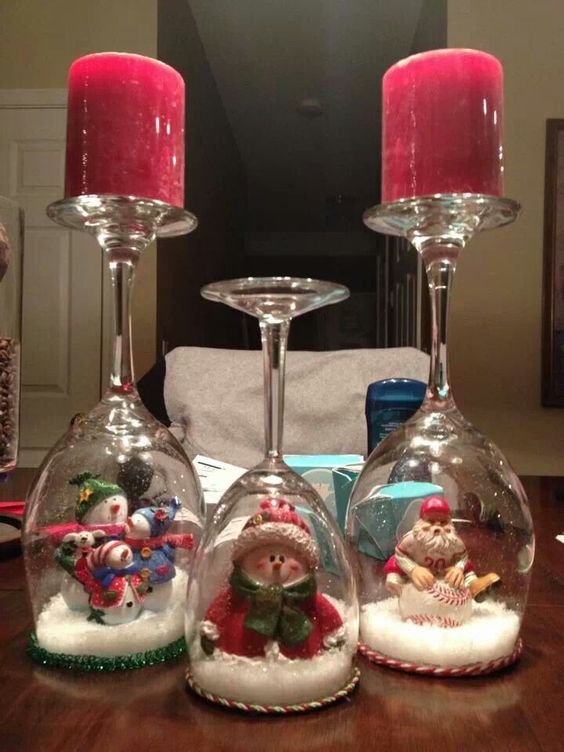 For a different way to present your candles this year , flip some wine glasses upside down and place festive figurines such as snowmen on fake snow inside. Pop your candles on top and watch as guests face delight.
Instructions Snow Globe Candle Holders
4. Festive Dessert Tray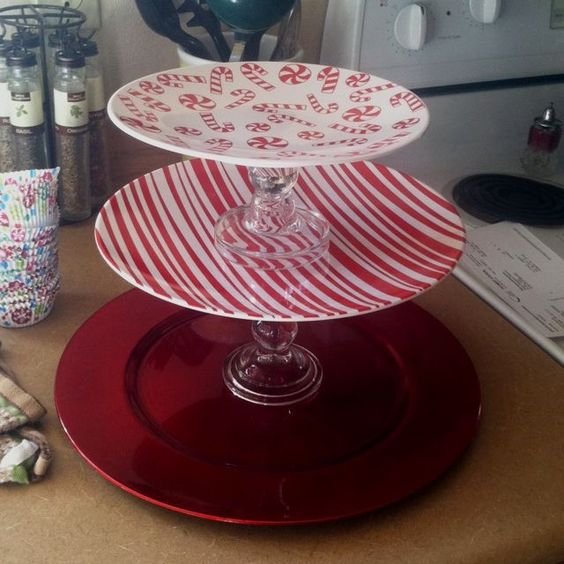 For a festive dessert tray – you'll need three plates and two candle holders which can all be purchased from the dollar store. Hot glue them together and you will have this lovely piece that could also be given as a gift with some nice cookies for example.
5. Fishbowl Snowman

Turn dollar store fishbowls into the most adorable Christmas decoration. You'll need 3 different sized stackable fish bowls a bag of fake snow and festive figurines. It really couldn't be easier to make.
Instructions Fishbowl Snowman
6. Candy Cane Wreath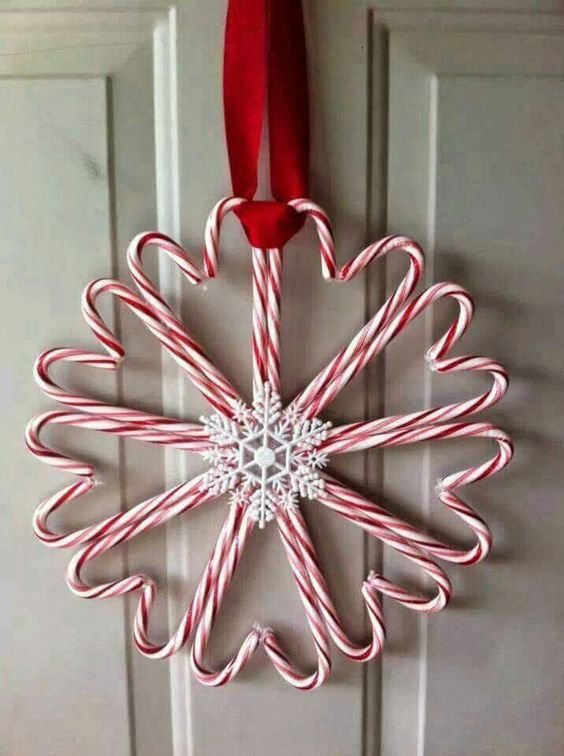 For a couple of dollars you can make this adorable wreath. Start by gluing two candy canes together at the top and bottom, using hot glue. Repeat until you have 9 hearts and finish by gluing a snowflake ornament in the center. Use some red ribbon to hang it.
7. Large Candy Canes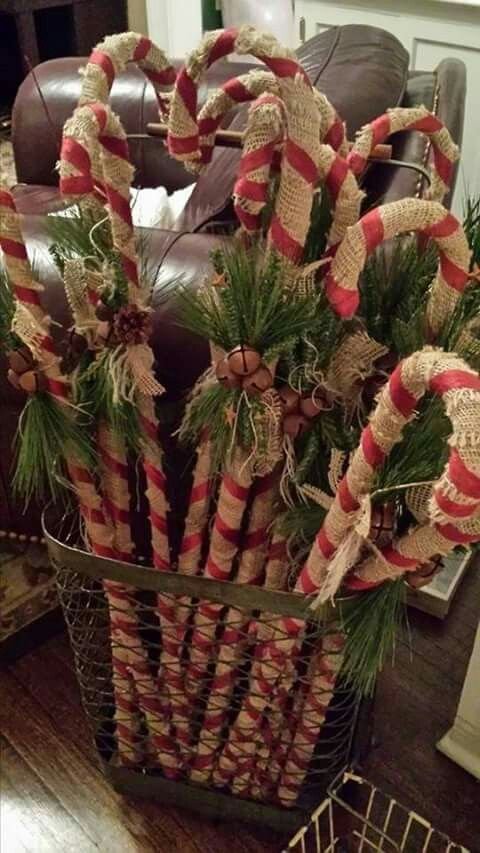 Wrap the dollar store plastic candy canes in burlap and embellish with bells, pine cones and greenery.
8. Gilded Winter Arrangement

Collect some branches from your backyard and wrap with some gold or silver thread. Arrange in a jar of baubles and then gently hang some baubles on each of the branches. This will look beautiful set on a tray of baubles and a candle.
9. Square Christmas Wreath

You can make this awesome wreath with a dollar store frame, garland ribbon and Christmas bulbs.
10. Deco Mesh Angel

This is a fun little craft to do with the kids. You'll need deco mesh, pipe cleaners, ribbon & a plastic bulb.
11. Pine Cone Centerpiece

Fill dollar store vases with pine cones and add fairy lights.
12. Dollar Store Christmas Decorations

These baubles will look stunning on your coffee table. Purchase some decor-push pins and Styrofoam balls to recreate this idea.
13. Christmas Ball Wreath

Make your door look super festive with this colorful wreath. Use a pool noodle and ornaments from the dollar store.
14. Bauble Centerpiece

Purchase several wine glasses and baubles as well as present bows, little fake presents, and a plate to recreate this. Fill the glasses with the balls and fake presents, and display what is leftover on the plate.
15. Faux Cloche

Turn two dollar store wine glasses upside down and make little scenes out of figurines such as a nativity set. Place a little bow near the top and you have a beautiful little decoration for your table.
16. Pickle Jar Snowman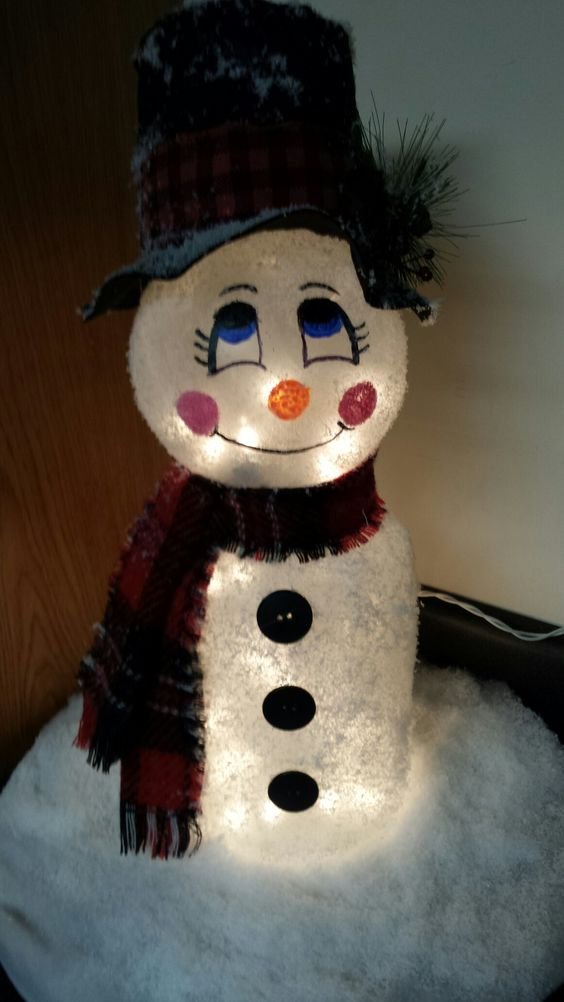 Instructions Pickle Jar Snowman
17. Ornaments Centerpiece

For cheap and easy Christmas decor – put Epsom Salt in the bottom of Dollar Store cylinder vases. Add you choice of pine cones and small ornaments.
18. Festive Kitchen Makeover

Red, white, black and silver Christmas in the kitchen. Rolls of red velvet ribbon and bows from the dollar store.
19. Twine Candy Canes

Buy plastic candy canes at the dollar store and wrap them using twine for a primitive candy cane.
20. LED Pictures

Use dollar store gift bags, battery LED lights, and frames to make these wintery scenes.
21. Lantern Scene
22. Ribbon Wrapped Candles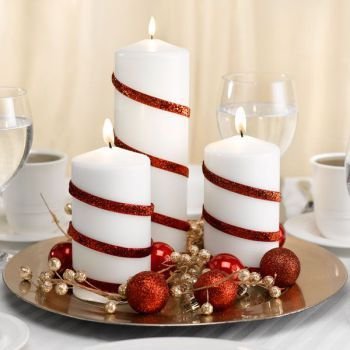 Make this charming candle decor with a gold charger and small round ornaments. Then use gold berry bush and narrow red ribbon as well as various sized white candles. Finally wrap the ribbon around the candle and glue in place.
23. Dollar Store Snowflake
24. Ornament Bowls
25. Candy Cane Christmas Door Hanger