Transport yourself to the land of fantasy with these Unicorn Nail Art Ideas. Think along the lines of pretty pastel skies, candy floss and magical horns of the mythical creature. They are great to wear any time of the year, whether for Halloween, birthdays or even just because you feel like it.

1. Unicorn Tips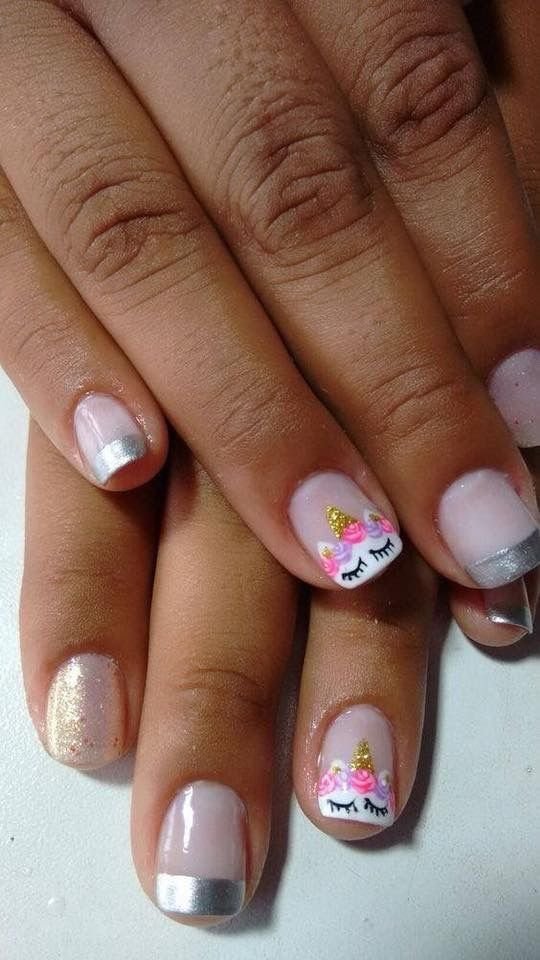 2. Cartoon Style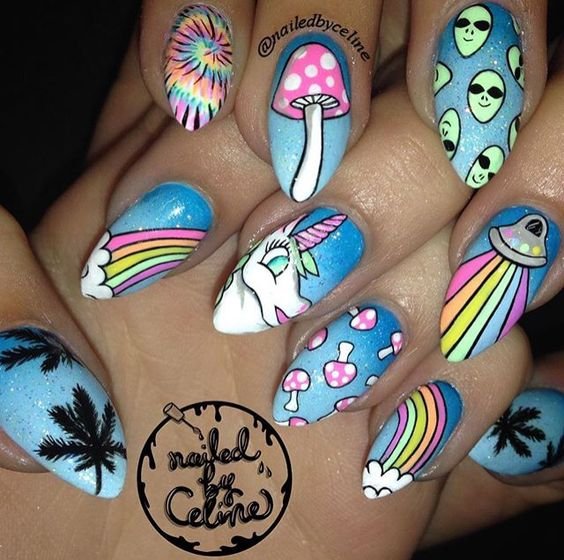 The unicorn caricature fits in wonderfully with the toadstools and aliens set against a glittery blue back drop manicure
3. Cute Little Critter

It's impossible not to fall in love with this adorable unicorn complete with pretty eyelashes.
4. Fantasy Tips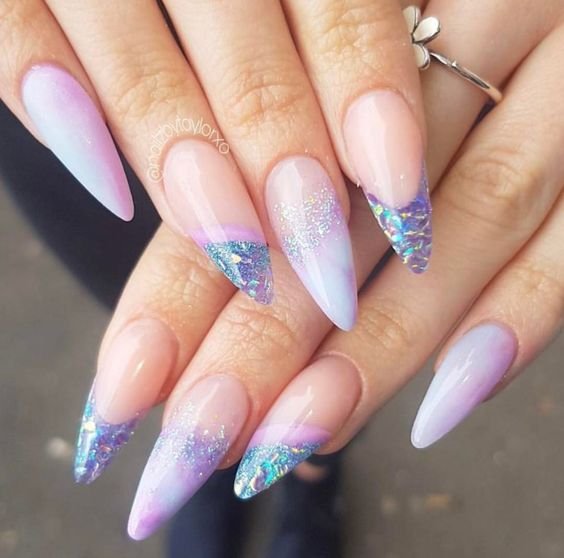 5. Feature Unicorn
6. Hologram
7. Magical Horn

These talons have all the magic of a unicorn and they glow in the dark as well. The sculpted horn on the ring finger really adds to the fantastical effect while the feature nail decorated with dazzling gems enchants. Paint a sweet unicorn on the thumb nail to complete the look.
source instagram
8. Magical Pastels
9. Magical Skies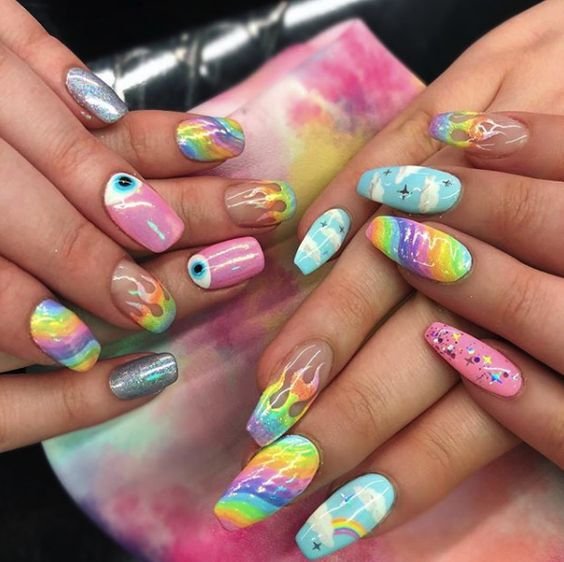 10. Magical Sparkle

The iridescent chrome nails with the magic purple sparkle makes the stiletto shape work really well for unicorn theme. Give a nod to the unicorn horn on the little finger with three delicate studs formed in that shape.
11. Marble Rainbow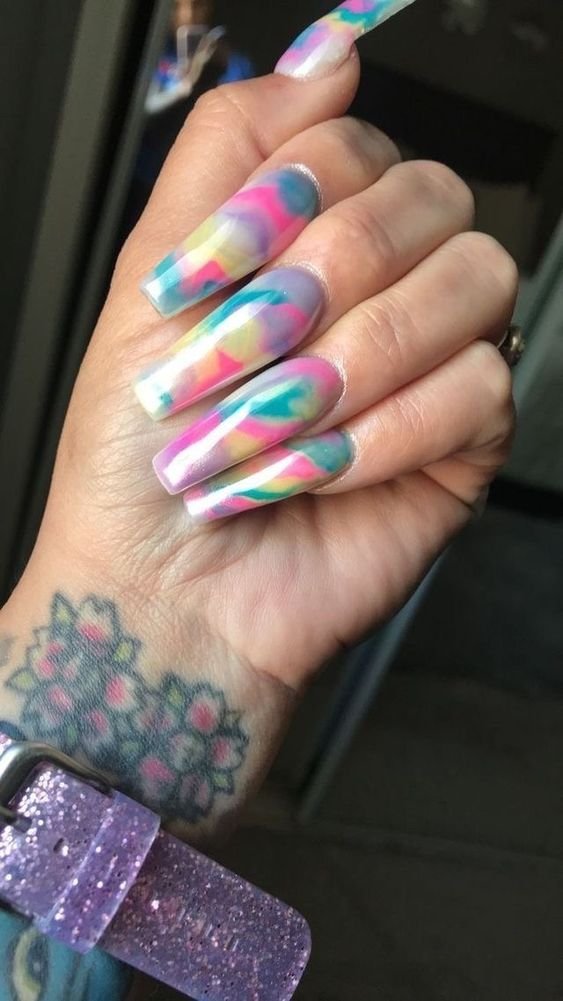 The marbling technique was almost invented for this unicorn themed rainbow nail design.
12. Neon Brights
13. Pastel Dreams

source instagram
14. Purple Glow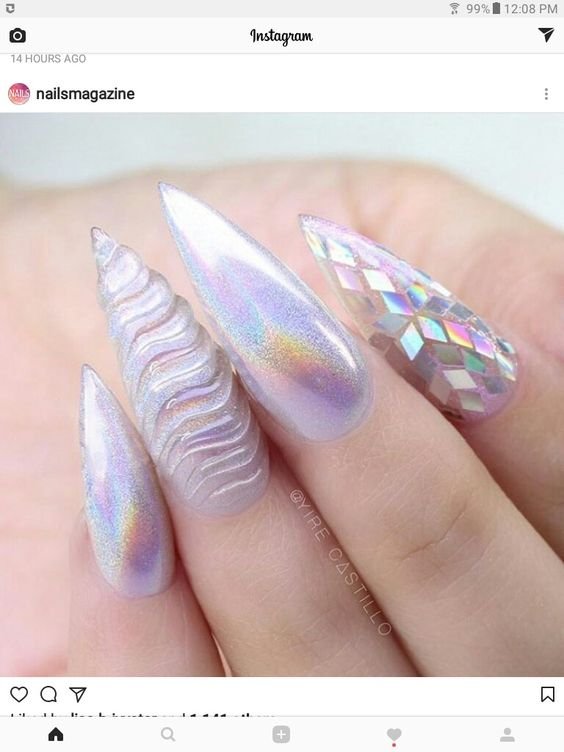 15. Rainbow Chrome
16. Rose Gold Fantasy

A super sparkly mani is perfect for everything fantasy.
17. Subtle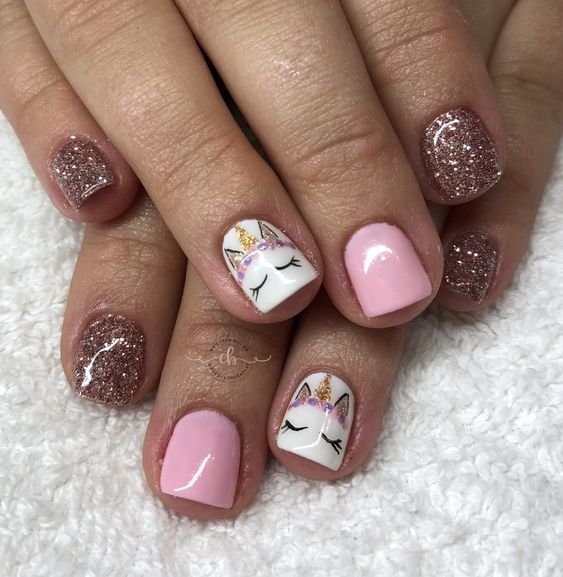 This unicorn mani is chock-full of sparkly glitters to capture the fantastical nature of the creature. You'll need a rose gold town and glitter as well as pastel pink and white nail polish. The unicorn is painted on a white base completed with a cute gold horn.