Spring has finally arrived and it's time to get decorating for Easter. A very popular idea is to adorn a simple blanket ladder with the decorations of your choosing. Choose from decorating with festive items such as eggs, bunnies and more. Lanterns are also a great option and can be adorned with pretty flowers or you could make bunny planters with the kids. You can keep it budget friendly by stocking up on items from your local dollar store or make your own decorations from craft supplies.
Ladders are also great as they are like shelves. You can decorate a ladder with bunnies and chicks. Also another great feature about using a ladder for decorating is that it can be switched out for the different seasons by swapping the decorations. Check out these ideas for inspiration.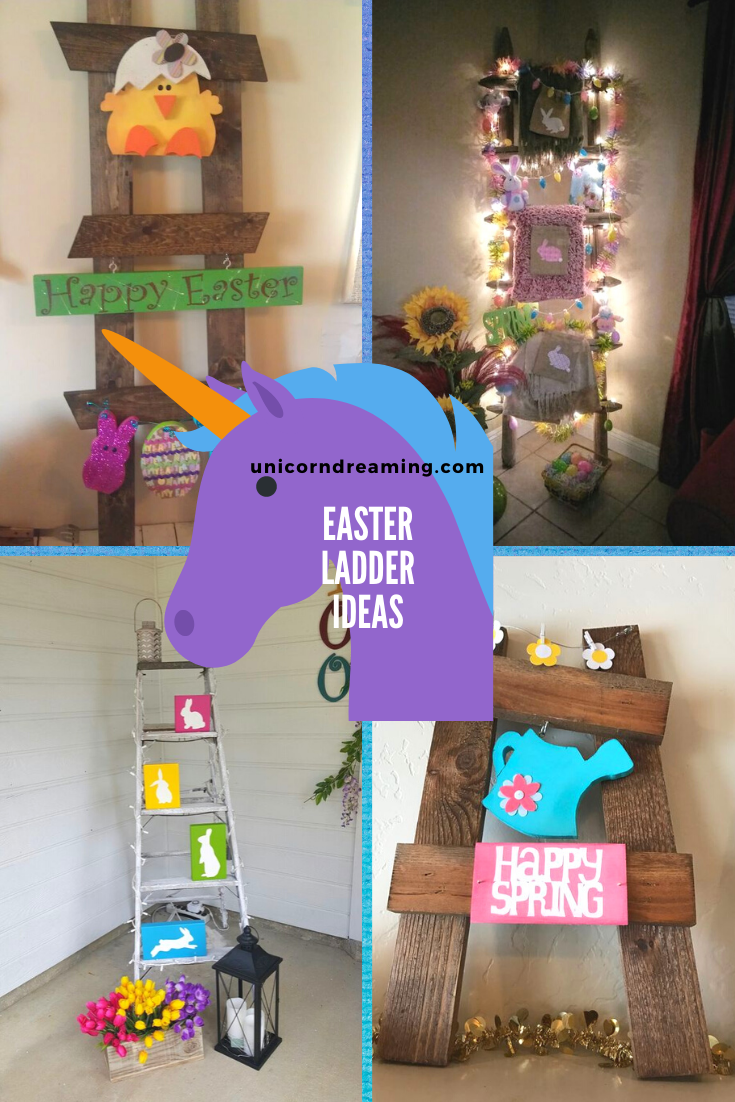 This Ladder is decorated for Easter with the use of bunny pictures. You can copy this idea by purchasing canvasses and painting them in the colors seen in the picture. Then you can use various different bunny silhouette stencils and spray paint them white onto your different canvasses. Arrange them on the different shelves according to your taste.
source pinterest

This rustic ladder with Easter decor is really set apart with the beautiful lights. Place a basket of plastic eggs underneath – you could transform them into glowing eggs by placing battery operated tea lights inside – these could then be used for a glow in the dark egg hunt.
source pinterest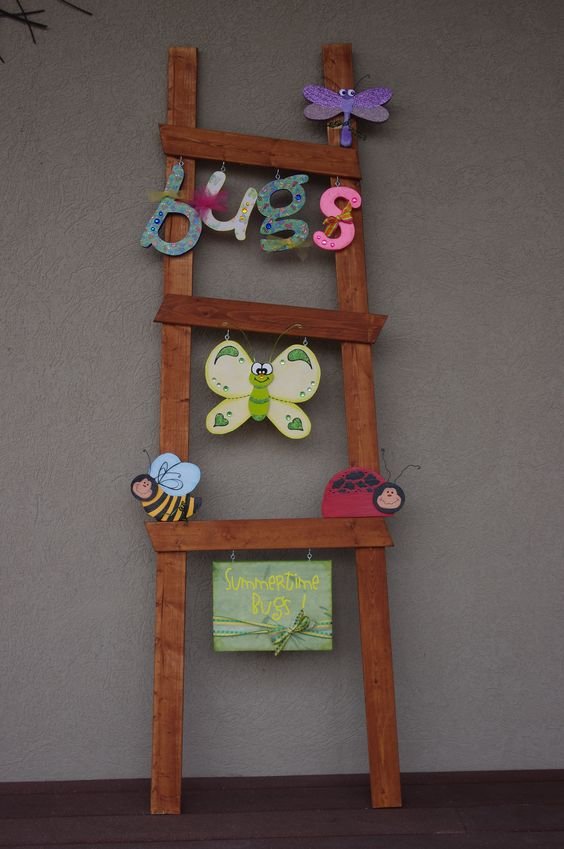 Buggy Bugs Ladder – perfect for Spring and Easter.
source pinterest
DIY Ladder
We're including this video by Creations by Favi to show you how they made their ladder.

Hook signs on to your ladder display such as ones saying "Happy Easter". You could make the sign yourself from scrap wood, or transform a bought one from the dollar store.
source pinterest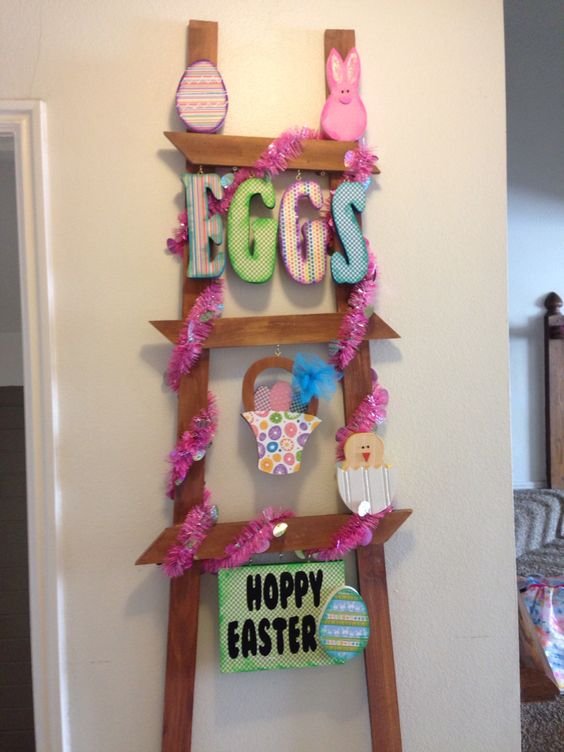 Say it with eggs. You can spell out eggs with wooden letters and weave some pink garland in between each tier. Add egg shapes and hatching chicks for a really cute and festive look.
source pinterest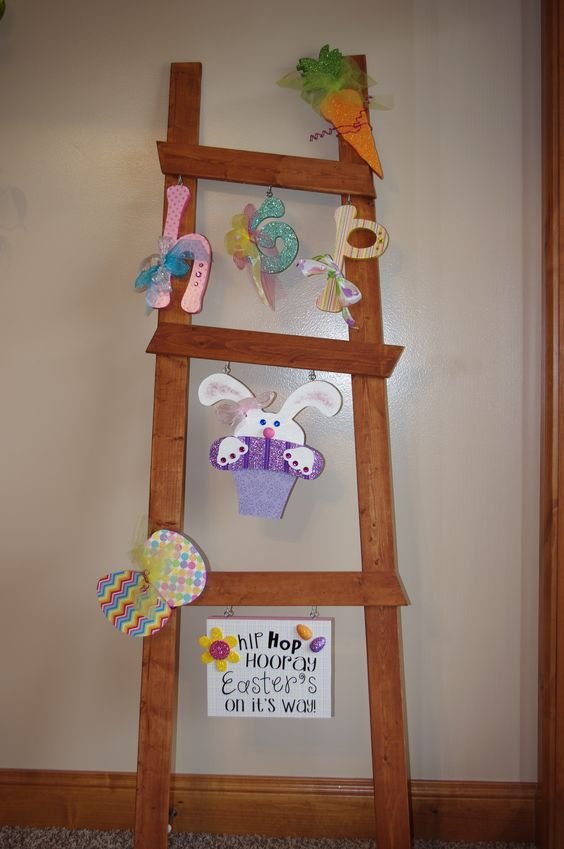 Hop to it with this cute ladder decor which every bunny is sure to love.
source pinterest

"Bloom where you are planted" – what a clever spring ladder decoration. Weave pretty flower decorations in and around each tier to really set the tone.
source pinterest

Egg display on a ladder for a pretty Easter decoration. You could also add some Easter cards for extra decor.
source pinterest

Seasonal ladder decor that's perfect for Spring and Easter.
source pinterest

The watering can is a really adorable way to indicate spring.
source pinterest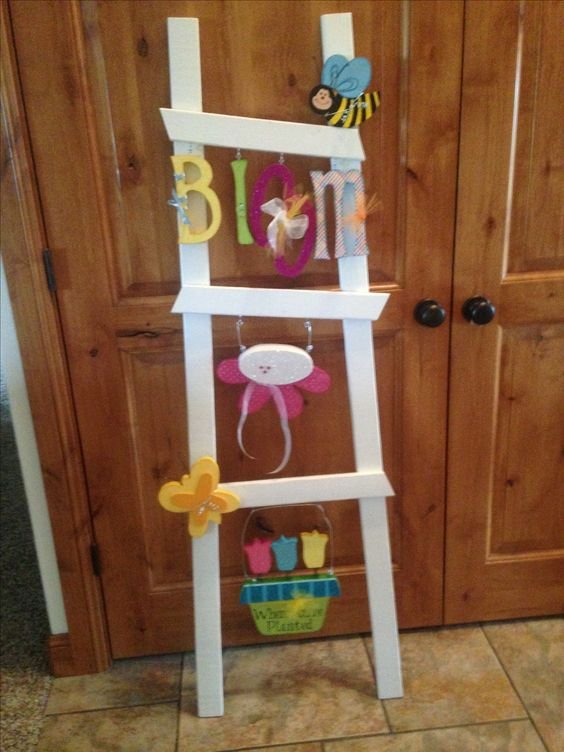 Place words loke bloom on your ladder, and a cute friendly buzzing bee decoration never goes a miss.
source pinterest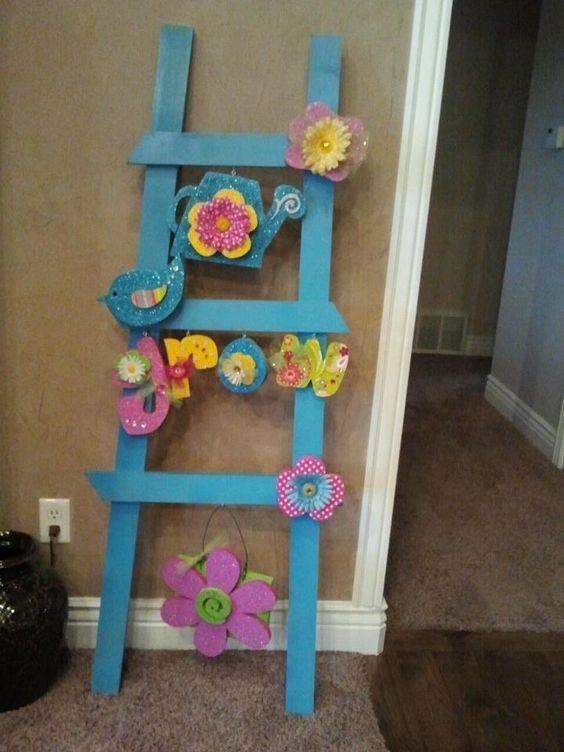 Amy B made this ladder for Spring and Easter. You can switch out the letters etc and add seasonal items to it.
source pinterest

To create drama, use a long ladder which can easily be placed into a corner.
source pinterest